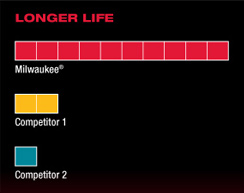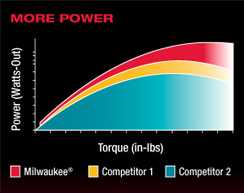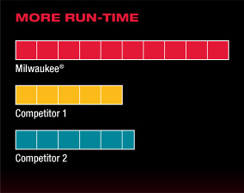 M18 FUEL™ is for tradesmen who are never satisfied; who constantly strive to improve their productivity. At Milwaukee Tool, it's our culture to constantly improve cordless power tool technology and reach levels never before seen with products like M18 FUEL™.
The revolutionary performance of M18™, the fastest growing cordless system on the planet is here to stay. Contractors who use an M18™ tool bearing the FUEL™ name, do so knowing they have invested in the most advanced cordless technology available. Simply put, FUEL™ delivers unmatched power, runtime and durability on the job-site.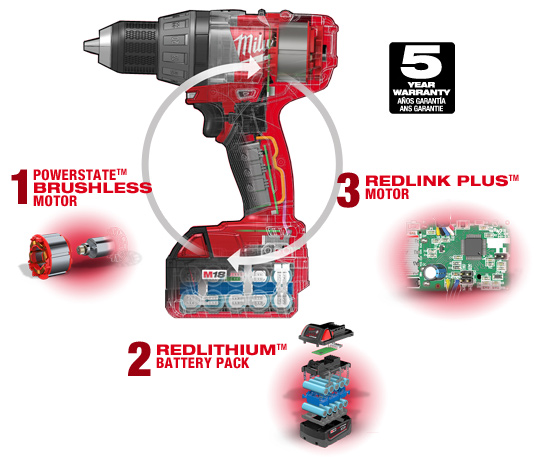 POWERSTATE™ Brushless Motor

Designed, engineered and built by Milwaukee®, POWERSTATE™ is the best-in-class brushless motor that works harder and lives longer than all leading competitors. We created the POWERSTATE™ Brushless Motor so tradesmen can do more with less maintenance. Thanks to industry-leading design and technology, POWERSTATE™ motors convert energy into power and torque more efficiently, resulting in superior application performance.

POWERSTATE™ brushless motors are ideal for professional tradesmen because they deliver more application speed, torque and durability in a smaller size. Additionally, POWERSTATE™ brushless motors reduce noise and cool more rapidly to deliver years of maintenance free performance.

REDLINK PLUS™ Intelligence

Milwaukee's® game-changing REDLINK PLUS™ Intelligence hardware and software is the most advanced system of cordless power tool electronics. Now, tradesmen can rely on REDLINK PLUS™ to optimize performance, decrease overheating and protect their investment. REDLINK PLUS™ Intelligence integrates full-circle communication between tool, battery and charger. REDLINK PLUS™ Intelligence constantly monitors this internal network and maintains ideal conditions resulting in peak application performance. REDLINK PLUS™ Intelligence is technology that all power tools crave, but only a Milwaukee® provides.

REDLITHIUM™ Battery Pack

With the REDLITHIUM™ Battery Pack, Milwaukee M18™ power tools work like they should - faster, longer and with fewer recharges. The M18™ battery platform, which is fully compatible with all M18 FUEL™ cordless power tools, maximizes performance, delivering more run-time, power and recharges than other lithium-ion battery packs. M18 REDLITHIUM™ batteries display remaining charge with an onboard fuel gauge and are compatible with all M18™ chargers including the Milwaukee® multi-voltage charger, which is set to launch in Spring 2012.

REDLITHIUM™ also delivers best-in-class performance in extreme job-site conditions. With Milwaukee® durability built into each pack, the REDLITHIUM™ battery operates cooler and performs in climates as low as 0°F/-18°C with fade free power.

Milwaukee Tool continues to redefine jobsite productivity with the new Multi-Voltage Charger. The Milwaukee® Multi-Voltage Charger is a one-stop solution that recharges all M18™ and M12™ REDLITHIUM™ battery packs.
The Milwaukee® Multi-Voltage Charger recharges in sequence – first in, first to charge - resulting in less time needed to manage charging cycles. REDLITHIUM™ XC™ - high capacity - packs recharge in 60 minutes or less while compact packs refuel in 30 minutes or less.