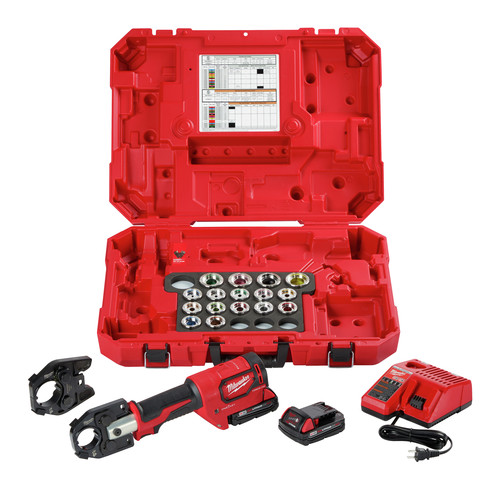 Milwaukee 2679-750A M18 FORCE LOGIC 600 MCM Al Crimper Kit with 750 MCM Expanded Jaw
Model:

miln2679-750a
We're sorry, but this item is no longer available.
Milwaukee 2679-750A M18 FORCE LOGIC 600 MCM Al Crimper Kit with 750 MCM Expanded Jaw
Model:

miln2679-750a
Product Features & specs :
Milwaukee 2679-750A M18 FORCE LOGIC 600 MCM Al Crimper Kit with 750 MCM Expanded Jaw
Details
The M18 FORCE LOGIC 600 MCM Al Crimper Kit w/ 750 MCM Expanded Jaw is the Most Accurate Way to Crimp producing cULus classified crimps according to the UL 486A-B classification standards for #8 - 750 MCM Copper & Dual Rated Anderson, Blackburn Burndy, Ilsco, Panduit, Penn-Union and Thomas & Betts Connectors. Utilizing Milwaukee U Style Dies that feature vivid wire size markings, industry standard color markings and imprint wire size onto the connector after crimp completion, Commercial Electricians benefit from its ease of use and easy inspection. Our jaw design holds the connector for instant alignment and Predictive Force Monitoring (PFM) ensures proper pressure is reached on every crimp. PFM actively measures pressure and automatically modifies all performance levels of the system allowing the high speed hydraulic pump to power through the beginning of a cycle and land at precisely the right pressure, protecting internal components, to complete the crimp. The result, Milwaukee crimpers are the most accurate, fastest and most durable crimpers in the world. Milwaukee Crimpers feature a fully enclosed high speed hydraulic pump, POWERSTATE Brushless Motor, REDLINK Electronics and REDLITHIUM Batteries delivering Ultimate Reliability in the toughest conditions and up to 4x longer life. Featuring Milwaukee ONE-KEY Technology, Milwaukee Crimpers enable you to store real time crimp data, generate professional reports, view historical tool performance data and sync it all wirelessly to the cloud for easy access.
Features:
Easily Interchangeable with 600 MCM Crimping Jaw (49-16-U000), 750 MCM Crimping Jaw (49-16-U111), and 750 MCM Cutting Jaw (49-16-2780)
Proprietary jaw holds connector for instant alignment
Easy-open Jaw for fastest repetitive crimping
PFM (Predictive Force Monitoring): delivers fastest crimp time in the industry
PFM (Predictive Force Monitoring) ensures optimal pressure every time, LED light provides instant pressure verification
Kit includes full set of #8-750 MCM Aluminum 6T U Style Dies
In-line design and 350 degree head rotation: easy access in the tightest panels
Hydraulic system is optimized for consistent performance from 0 degrees Fahrenheit - 122 degrees Fahrenheit
Tool records and stores every crimp made, One-Key enabled for professional report building
Weather protected electronics keep dirt, dust and moisture out
What's Included:
M18 FORCE LOGIC 600 MCM Crimper - 2679-20
750 MCM Cu/Al Crimping Jaw - 49-16-U111
750 MCM Al U Style Die - 49-16-U750; 600 MCM Al U Style Die - 49-16-U600; 500 MCM Al U Style Die - 49-16-U500; 400 MCM Al U Style Die - 49-16-U400; 350 MCM Al U Style Die - 49-16-U350; 300 MCM Al U Style Die - 49-16-U300; 250 MCM Al U Style Die - 49-16-U250; 4/0 Al U Style Die - 49-16-U04A; 3/0 Al U Style Die - 49-16-U03A; 2/0 Al U Style Die - 49-16-U02A; 1/0 Al U Style Die - 49-16-U01A; #1 Al U Style Die - 49-16-U001; #2 Al U Style Die - 49-16-U002; #4 Al U Style Die - 49-16-U004; #6 Al U Style Die - 49-16-U006; #8 Al U Style Die - 49-16-U008
(2) M18 REDLITHIUM CP2.0 Battery Pack - 48-11-1820
M18 & M12 Multi-Voltage Charger - 48-59-1812
Carrying Case