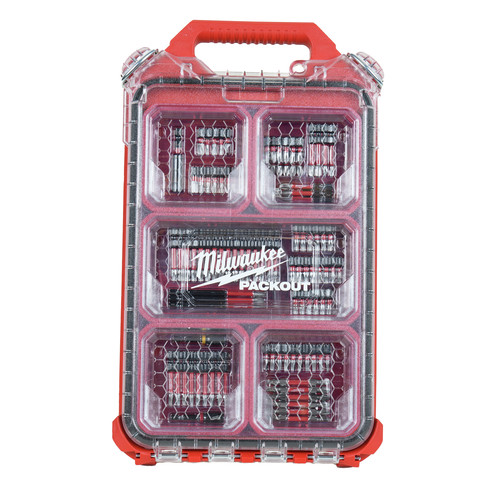 Milwaukee 48-32-4082 100-Piece Shockwave Impact Driver Bit Set with PACKOUT Low Profile Compact Organizer
Model:

miln48-32-4082
This item qualifies for
FREE SHIPPING
Milwaukee 48-32-4082 100-Piece Shockwave Impact Driver Bit Set with PACKOUT Low Profile Compact Organizer
Model:

miln48-32-4082
Product Features & specs :
Milwaukee 48-32-4082 100-Piece Shockwave Impact Driver Bit Set with PACKOUT Low Profile Compact Organizer
Details
Load up on all the fastening bits you need for your impact driver and transport them with ease with Milwaukee's SHOCKWAVE 100-Piece Impact Driver Bit Set with PACKOUT Low Profile Compact Organizer (48-32-4082). SHOCKWAVE bits are designed to meet the demands of today's jobsite, offering up to 50X the life over other impact driver bits. All bits are engineered using Custom Alloy76 steel, and feature precision fit and laser hardened Wear Guard Tips for long life and exact fit. The shock-absorbing SHOCKZONE features varied diameters based on bit type and length, delivering even more protection against snapping in bits used for high-torque applications. The PACKOUT Low Profile Compact Organizer that stores these bits is perfect for small bits, fasteners and other items. The organizer features 4 small bins and 1 large bin, and the no-travel seals keep all parts in their bins while transporting. All bins are removable and can be mounted to work surfaces using 2 screws or nails for easy hanging. An IP65-rated seal keeps debris and liquids out, while heavy duty latches keep everything in place during travel. At half the height of our standard size PACKOUT organizer the Low Profile Compact Organizer helps transport lots of material without taking up a lot of space.
Features:
SHOCKWAVE Impact Bits are made of CUSTOM ALLOY76 steel and feature laser hardened tips for maximum life in high-powered impact drivers
Wear Guard Tip minimizes tip wear over the life of each bit
Optimized SHOCKZONE (based on tip type and length) absorbs impact to prevent bit snapping
Offers up to 50X life vs. other impact-rated bits
PACKOUT low-profile design - half the thickness of standard PACKOUT organizers - is optimized for organization of small bits and items
5 removable bins (4 small and 1 large) are held in place via no-travel bin seals, which also ensure small parts will stay in their bins
Features a clear top for easy content identification, and IP65 ingress protection to keep moisture, dust and debris out
Compatible with all PACKOUT modular storage products
What's Included:
(1) SHOCKWAVE 2.36 Compact Magnetic Bit Holder - 48-32-4502
(2) SHOCKWAVE 1 in. #1 Phillips Insert Bits (PH1) - 48-32-4411
(6) SHOCKWAVE 1 in. #2 Phillips Insert Bits (PH2) - 48-32-4412
(2) SHOCKWAVE 1 in. #2 Phillips Reduced Diameter Drywall Insert Bits (PR2) - 48-32-4444
(2) SHOCKWAVE 1 in. #3 Phillips Insert Bit (PH3) - 48-32-4413
(2) SHOCKWAVE 1 in. #1 Square Insert Bit (SQ1) - 48-32-4421
(6) SHOCKWAVE 1 in. #2 Square Insert Bit (SQ2) - 48-32-4422
(2) SHOCKWAVE 1 in. #3 Square Insert Bits (SQ3) - 48-32-4423
(2) SHOCKWAVE 1 in. T10 TORX Insert Bits (T10) - 48-32-4427
(2) SHOCKWAVE 1 in. T15 TORX Insert Bits (T15) - 48-32-4428
(6) SHOCKWAVE 1 in. T20 TORX Insert Bits (T20) - 48-32-4414
(6) SHOCKWAVE 1 in. T25 TORX Insert Bits (T25) - 48-32-4436
(2) SHOCKWAVE 1 in. T27 TORX Insert Bits (T27)
(2) SHOCKWAVE 1 in. T30 TORX Insert Bits (T30) - 48-32-4637
(1) SHOCKWAVE 1 in. #4 7/16 in. Slotted Insert Bits (SL#4) - 48-32-4115
(1) SHOCKWAVE 1 in. #6 1/8 in. Slotted Insert Bits (SL#6) - 48-32-4416
(1) SHOCKWAVE 1 in. #8 3/16 in. Slotted Insert Bit (SL#8) - 48-32-4417
(1) SHOCKWAVE 1 in. #10 1/4 in. Slotted Insert Bit (SL#10) - 48-32-4418
(1) SHOCKWAVE 1 in. #12 9/32 in. Slotted Insert Bit (SL#12)
(1) SHOCKWAVE 1 in. SAE Hex 3/32 in. Insert Bit
(1) SHOCKWAVE 1 in. SAE Hex 7/64 in. Insert Bit
(1) SHOCKWAVE 1 in. SAE Hex 1/8 in. Insert Bit
(1) SHOCKWAVE 1 in. SAE Hex 9/64 in. Insert Bit
(1) SHOCKWAVE 1 in. SAE Hex 5/32 in. Insert Bit
(1) SHOCKWAVE 1 in. SAE Hex 3/16 in. Insert Bit
(1) SHOCKWAVE 1 in. SAE Hex 1/4 in. Insert Bit
(2) SHOCKWAVE 2 in. #1 Phillips Power Bits (PH1) - 48-32-4461
(5) SHOCKWAVE 2 in. #2 Phillips Power Bits (PH2) - 48-32-4602
(2) SHOCKWAVE 2 in. #3 Phillips Power Bits (PH3) - 48-32-4463
(2) SHOCKWAVE 2 in. #1 Square Power Bits (SQ1) - 48-32-4471
(5) SHOCKWAVE 2 in. #2 Square Power Bits (SQ2) - 48-32-4606
(2) SHOCKWAVE 2 in. #3 Square Power Bits (SQ3) - 48-32-4910
(2) SHOCKWAVE 2 in. T10 TORX Power Bits (T10) - 48-32-4482
(2) SHOCKWAVE 2 in. T15 TORX Power Bits (T15) - 48-32-4483
(5) SHOCKWAVE 2 in. T20 TORX Power Bits (T20) - 48-32-4684
(5) SHOCKWAVE 2 in. T25 TORX Power Bits (T25) - 48-32-4685
(2) SHOCKWAVE 2 in. T27 TORX Power Bits (T27) - 48-32-4486
(1) SHOCKWAVE 3.5 in. #2 Phillips Power Bit (PH2) - 48-32-4562
(1) SHOCKWAVE 3.5 in. #2 Square Power Bit (SQ2) - 48-32-4572
(1) SHOCKWAVE 3.5 in. T25 TORX Power Bit (T25) - 48-32-4561
(1) SHOCKWAVE PH2/PH2 Double Ended Power Bit
(1) SHOCKWAVE PH2/SL#10 Double Ended Power Bit - 48-32-4310
(1) SHOCKWAVE PH2/T25 Double Ended Power Bit - 48-32-4312
(1) SHOCKWAVE PH2/SQ2 Double Ended Power Bit - 48-32-4311
(1) SHOCKWAVE T20/T25 Double Ended Power Bit - 48-32-4313
(1) SHOCKWAVE 1/4 in. x 1-7/8 in. Magnetic Nut Driver - 49-66-4502
(1) SHOCKWAVE 5/16 in. x 1-7/8 in. Magnetic Nut Driver- 49-66-4503
PACKOUT Low Profile Compact Organizer - 48-22-8436
Phillips/Square/TORX/Hex/Slotted/Double Ended
Phillips/Square/TORX/Hex/Slotted/Double Ended/ Magnetic Nut Driver
Phillips/Square/TORX/Hex/Slotted/Double Ended